Public Liability  Insurance with:
 Enhanced CRB Checked
TIER 2 in Child Awareness Training
VCT Diploma in Media Make Up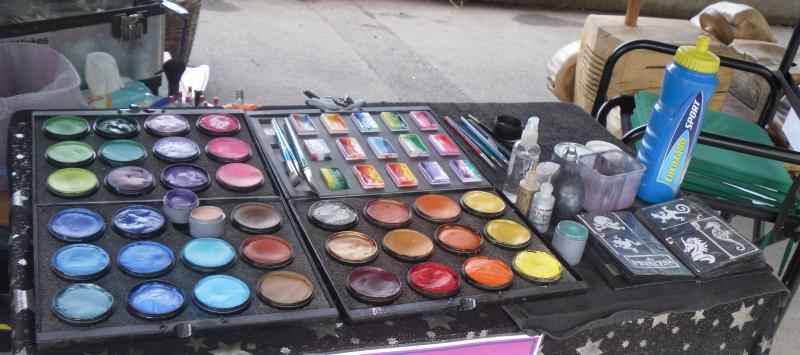 All the colour and sparkle you need
for your event!
Jenny the proprietor of Brushstrokes is based in Truro, and part of a countywide network of painters who regularly work with and for each other, which means that where more than one painter is required, that given notice we can provide you a professional team of painters.
Jenny has experience in Face Painting since 2000, and gained a Diploma in Media Make Up at Truro College including Beauty, Corrective, Stage, and Special Effects Make Up, Health and Safety and Data protection. She is presently PLI Insured for £4 Million with Professional Beauty Direct.
News...
in October 2017Jenny travelled to Belgium as guest demonstrator at international event JAMvention demonstrating her skills in skull painting. 
 Jenny achieved a win with her Great Ormond Street Body Painting at Professional Beauty 2017 in London and voted Professional of the Year by her peers, photographers ad judges.
Jenny also won solo body painter of the year at Body Factory 2016 at Mount Edgecumb which was filmed for channel 4 to be shown in a series with celebrity Julie Walters who was also judge at the competition.
One of Jenny's body paintings is now featured in VOGUE Italia!!
Also published on ILoveBodyArt internet site featuring leading Body Painters from all over the globe.
Training
Jenny has trained with several leading International artists on their world tours to help further her skills:
In Plymouth (2005) with Shannon Fennel (Canada)
In Bristol with Face and Body Painter and Master body painter Mark Reid (2008) (US).
In Wales (2010) with Nick and Brian Wolfe (L.A. Evil Twin FX)
In 2014 with elite painters: World number 1 three years running Alex Hansen (Montreal),  renowned Italian body painter Matteo Arfonatti and Wiser Oner (U.S.)
In 2016 with Grafitti Artist Face and Body Painter Wiser Oner (U.S.)
Achievements 
In August 2010, Jenny competed in the Welsh International Face and Body Painting Festival amongst many of the leading painters in the UK and achieved a 1st place in the Monster Face Painting Competition, and for her first Body Paint in Competition, gained a 5th place over all for her 2 "Wild Things" body paintings.
In 2011, Jenny was part of a team of 29 painters UK Wide who painted pregnant tums for Comic relief, painting 15 bumps in 22 days, raising £286 and the team total came to over £8000!!! 5 of her bump paintings were featured in issue 33 of Take a Break Magazine.
In April 2011 Jenny gained a 3rd in an International competition run by the West Coast Face and Body Painters Forum for one of her Pregnant Belly designs.
In August 2011 Brushstrokes appeared in the West Briton Newspaper as a featured local business with extensive coverage and Photographs.
Jenny was delighted to be a guest Demonstrator and Judge at the Paintopia Face and Body Painting Festival in Norfolk in May 2012 
In 2013 Jenny was delighted to achieve 3rd out of 28 in the solo body painter of the year at international level at Paintopia and then in 2015 was placed 8th out of 38 artists at the same event. 
Jenny takes great pride in her job and aims to provide the best service to clients tailored specifically to their personal requirements.
PIMP YOUR BUMP
Jenny is proud to announce that she has published her first book !!!
Pimp Your Bump is a beginners guide to gestational Belly Painting. Its a world first! Available now. Price £9.99 from the "store" page
 Jenny continues to work for many private and corporate clients and also on projects with respected professional photographers and make up artists.
If you would like to know more about Brushstrokes, please browse our pages or contact Jenny for a chat about your requirements.
brushstrokesbodyart@hotmail.co.uk
 Mob: 07786143608